Craighead Elementary Library Media Center and Collaboration Lab
The mission of the Craighead Elementary Library Media Program is to teach the skills that will enable all of our students to become information literate and lifelong learners. The program will provide the educational and technological opportunities to meet the ever changing needs and abilities of each and every individual in our school community. The program will also enable individuals to access, analyze, assimilate, and use information effectively.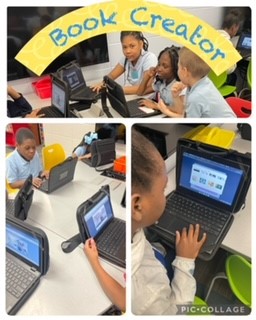 ACCESSIBILITY
17, 638 print and nonprint resources
Computers available for library use, including one self-check in station and one self check-out station.
Destiny, the Online Public Access Catalog (OPAC), is a computerized book catalog accessible on any computer in the school.
COLLABORATION LAB
We have a collaborative lab inside the Media Center. Teachers can schedule opportunities for their students to use this state-of-the-art technology lab.
COMPUTER LAB
Students are scheduled for the computer lab three times a week for an hour session. During this time students use computers and mobile devices to complete assignments.
LIBRARY MEDIA
PreK-5th grades are on a fixed/flexible schedule, meaning they come every two weeks for library instruction and checkouts.
Teachers can also schedule time to bring students in for project-based learning assignment. Students may come to the Media Center on an individual basis with a pass to complete assignments and check books in and out.